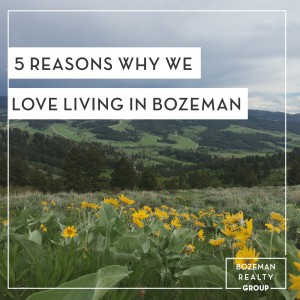 Living in Bozeman, Montana means that you will never run out of things to do. There's always a new run to ski, hiking trail to explore, river to fish, or event to attend.
Consistently rated one of the best cities in the United States, here are only a few of the many reasons we love living in Bozeman, Montana.
1) Bozeman's Climate: We get 300 days of sun every year, 85 inches of snow in town, over 350 inches of snow per year at Ski Hills(Bridger Bowl, Big Sky Ski Resort.)
2) Rivers: We have 7 of the world's most famous Blue Ribbon Rivers.
3) Trails: Bozeman has 60 miles of "Main Street To Mountains" trail system in town, surrounded by 6.9 million acres of public land.
4) Parks: Bozeman has Hundreds of acres of city parks, almost 100 acres of off leash dog parks, and is the gateway city to Yellowstone National Park
5) Culture: Dynamic Historic Downtown area, top tier Montana State University, and best schools in the state.