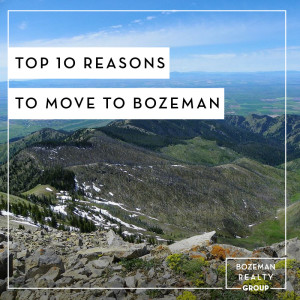 Everyone loves lists so we've compiled a list of the top 10 reasons you should consider moving to Bozeman, Montana.
1. The only rush hour traffic you'll face is getting to the ski hills after 36″ of powder fell overnight.
2. Fly Fishing on 7 of the world's most famous Blue Ribbon Rivers during your lunch break.
3. A vibrant entrepreneurial spirit and supportive business environment.
4. You can wear your ski boots walking down Main Street and nobody looks at you funny.
5. 6.9 million acres of public land surround the city.
6. Fast and convenient access to major markets via Bozeman Yellowstone International Airport.
7. 2.5 times more cattle than people.
8. No sales tax and a low cost of doing business
9. 60 miles of "Main Street To Mountains" trails for hiking and biking
10. Because you only live once.