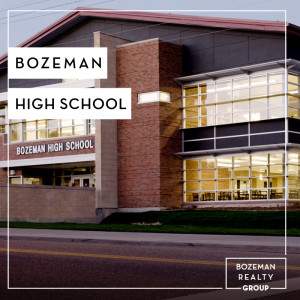 Bozeman High School (or BHS) is a public high school for grades 9 through 12 located in Bozeman, Montana. It is the second-oldest high school in the state of Montana.
Bozeman High School offers courses in art, biomedical sciences, business education, engineering, English, foreign languages, health enhancement (health education and physical education), home economics, industrial arts, mathematics, music, science, and social studies.[7] It also offers Advanced Placement courses in American history, art, biology, calculus, chemistry, English literature and composition, European history, French, German, human geography, government, microeconomics, music theory, physics, psychology, Spanish, statistics, and world history.
Campus and athletics
The 54-acre (22 ha) campus includes a 50-meter (160 ft) swimming pool that, by a lease arrangement from the city, provides swimming opportunities for students. The campus has a 10-lane all-weather running track for use in the health enhancement curriculum as well as in extracurricular activities. It is the largest high school in the state. The school's mascot is the hawk.
Athletics
Athletic programs include Cross country, football, basketball, volleyball, swimming, wrestling, and soccer. The Hawks are in division AA, the largest division in Montana.
BOZEMAN HIGH SCHOOL