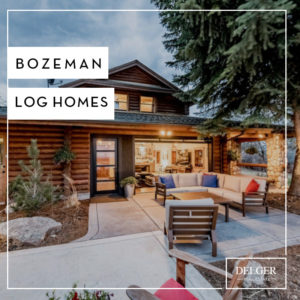 Log homes are a testament to the iconic architecture of the Old West. The appeal of log home style is that no two log homes are alike. Beyond design, the structural components of log homes vary in shape, size and style. Even the species of wood used in a log home can vary.
Many traditional log-built homes have been reimagined for contemporary lifestyle offering open floor plans filled with light and modern finishes. A popular option for new construction is to take old existing log structures down, and "restack" them on a modern foundation. This approach uses beautiful reclaimed beams, joists, boards, paneling and trim that has been ethically gathered from well-loved buildings in remote corners of the world, and repurposed in a newly constructed luxury log home.
Many Bozeman Log Homes for sale have views of the mountain ranges and open land surrounding the Gallatin Valley.
Contact our Bozeman Real Estate Agents if you would like additional information on log homes in Bozeman.
Bozeman Log Homes For Sale