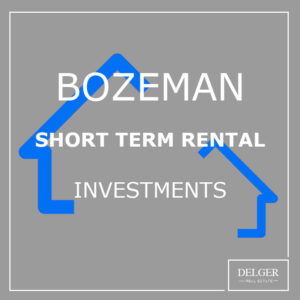 Real Estate Investors are frequently looking for short term rentals to purchase in Bozeman. Bozeman is a popular vacation destination for skiing, fishing, hiking and exploring Yellowstone National Park. There is strong demand for Short Term Rentals in Bozeman. There are currently over 700 properties listed on Airbnb, VRBO, etc, for the Bozeman area. Many of these are great real estate investments.
Bozeman adopted new Short Term Rental Rules in 2017. It is important to understand Bozeman's Short Term Rental Restrictions. The City of Bozeman does not advise on issues related to short term rentals other than its own regulations. Many of Bozeman's Home Owner Associations(HOA's) have restrictions on Short Term Rentals.
Please contact our Bozeman Real Estate Agents for information on specific areas and properties.
The Average Daily Rate for Short Term Rentals in Bozeman is $246. This rate is seasonal with the average daily rate in August the highest at $278. Rates in February are the lowest at $209 Average Daily Rate.
The Average Occupancy Rate for Short Term Rentals in Bozeman is 77%. This is considered very good. The Occupancy Rate for Bozeman is highest in July at 95%. The rate is lowest in November at 53%.
Rentals have been growing at approximately 8% per year.
48% of short term rentals in Bozeman are listed on Airbnb. 21% are listed on VRBO. 31% of short term rentals are listed on both Airbnb and VRBO.