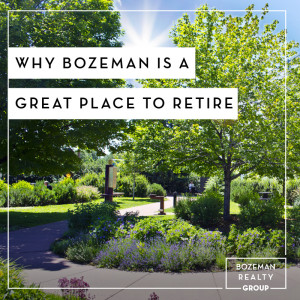 It's no secret that retired life in Bozeman is close to idyllic. Bozeman is frequently rated as one of the best places to retire by numerous national publications.
Bozeman is a classic Montana town situated in the beautiful Gallatin Valley surrounded by the majestic Bridger, Tobacco Root, Madison and Gallatin mountain ranges. A highly regarded historic downtown boasts restaurants and boutique shops. Main Street downtown serves as the venue for a seemingly endless number of art fairs and music festivals. 50 of the buildings in downtown Bozeman are listed on the National Register of Historic Places. Opportunities for horseback riding, and dude ranches outside town attract tourists and locals alike. Montana State University, the Emerson Center for the Arts and Culture, and the Museum of the Rockies add culture, and academic pedigree to the scene. Bozeman has a college-town atmosphere thanks to MSU, but that is balanced with a flourishing tech industry, active lifestyle and vibrant arts & culture scene.
Bozeman has a growing community of retirees due to the active lifestyle, convenience, intellectual stimulation and entertainment options. The highly regarded "Main Street to the Mountains" trail system winds throughout the city. Bozeman's Streamline Bus Service offers routes throughout the Bozeman area to fulfill transportation needs. Numerous outdoor activities including fishing, golfing, biking, rafting, and skiing options are within minutes of most locations. Bozeman also has options for indoor entertainment with theaters, museums, galleries and other cultural venues.
For most people considering a move to Bozeman, the winter weather is one of their biggest concerns.  Winters in Montana can be cold, but Bozeman is the sunniest city in the state averaging over 300 days of sunshine per year. The mountains surrounding Bozeman get substantial snowfall, which thrills skiers, but the valley can remain relatively free of snow. Residents coming from other areas are often surprised to find that the winters in Montana are much more bearable than the cold, wet and dreary winters in other parts of the country. Bozeman regularly sees sunshine & blue skies throughout the winter months and there is also less moisture in the air which makes the temperature feel relatively mild compared to many other cities. Learn more about Bozeman, MT Climate.
Primary healthcare is provided by Bozeman Deaconess Hospital. The hospital has received several excellence awards and five-star ratings over the years. Because Bozeman is such a desirable place to live, many top rated Doctors have elected to move to Bozeman to continue their practice.
When it comes to finding a home, retirees have many options. Some prefer one of the various 55 and older communities in Bozeman, many of which offer a strong sense of community and close proximity to the hospital and walking trails. Some prefer to purchase one of the condos located within walking distance of Main Street, while others find themselves purchasing homes just outside city limits with sprawling acreage and stunning mountain views.
Contact the team of experts at Black Diamond Montana Real Estate Group to help you find the perfect home if you are looking to retire in the Bozeman area. We are happy to answer any questions you have.