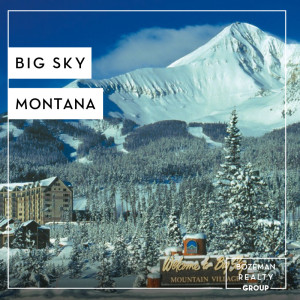 A recreational paradise, Big Sky, Montana is home to numerous outdoor activities and may be one of the best kept secrets in the West. From downhill to cross-country skiing, hiking, mountain biking, fly fishing, horseback riding and more, it's no surprise that so many tourists flock to this corner of Montana each and every year, and with Yellowstone National Park less than an hour away, Big Sky is the perfect home-base for visiting the Country's First National Park.
Big Sky Resort is known for giving skiers and riders access to more skiing than anywhere else in the United States. Located in south central Montana, about fifty miles south of Bozeman, Big Sky provides visitors with updated amenities, a well developed infrastructure and over 5,750 acres of skiable terrain.
The resort offers some of the best expert and advanced terrain around while including an extensive network of trails suited for the intermediate and beginner skier or snowboarder. The resort claims to be the base camp to Yellowstone National Park and provides daily shuttles to Yellowstone's west entrance. The resort has everything one would expect from a modern ski resort including a variety of dining, lodging, and shopping possibilities.
Big Sky is home to several different areas. Big Sky Meadow Village is a small "village" that makes up Big Sky. It is the first set of shops and restaurants after turning from the main highway. Located within the Big Sky Meadow Village is the Big Sky Town Center.
Big Sky Mountain Village is the area that surrounds the base of Lone Mountain. It is also home to Big Sky Ski Resort, Spanish Peaks, and Moonlight Basin. Over the years, developments in Beehive Basin, Ulery's Lake, and Cascade Ridge have also become grouped into the Mountain Village. There are many businesses located in Mountain Village, many of which are open seasonally for both winter and summer visitors.
The Mountain Village is the area closest to Big Sky Resort and has the highest concentration of condominiums in Big Sky, several of which have existed in some form since the resort's inception in the 1970's. The elevation at Big Sky Mountain Village is 7,500 feet. Moonlight Basin, located on the northern side of Lone Peak, also has a number of condominiums, but also has a greater number of ski-in and ski-out homes located right on the slopes. Spanish Peaks, located just to the south also offers ski-in and ski-out homes.
BIG SKY
BIG SKY RESORT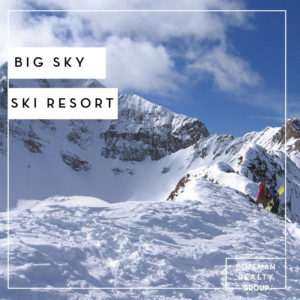 Big Sky Resort is the premiere downhill skiing destination in Montana. Operating under the moniker "THE BIGGEST SKIING IN AMERICA", Big Sky Resort is big(5,800 acres), with four different mountains connected by chair lifts, runs that are 6 miles long, and the Loan Peak Tram that takes skiiers to the summit of Lone Mountain (11,166 feet).
The ski area itself sits among the Spanish Peaks, which contain some of the highest peaks in Montana. The Spanish Peaks also boast some of the highest vertical rises in Montana when measured from valley floor to mountain peak.
Big Sky resort is a true "destination ski area", a place where you come to not only ski during the day but to also spend the night as well. Additionally, as a destination ski resort, Big Sky caters primarily to the out of state skier. Everything a traveling skier could ever need is located in Big Sky, from a fairly vibrant nightlife, luxurious hotels, ample shopping opportunities and gourmet dining.
The skiing at Big Sky can be divided into three areas. These different areas are Lone Peak, Andesite Mountain, and the Moonlight Basin area.
Learn more about Big Sky Resort.