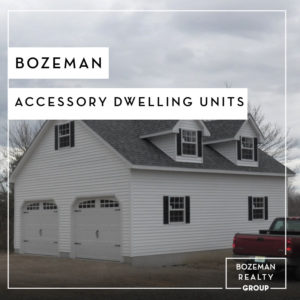 Properties in Bozeman with Accessory Dwelling Units are in high demand. Bozeman Planners call them ADUs (Accessory Dwelling Units), but they're also known as granny flats, in-law units, laneway houses, and secondary dwelling units.
An Accessory Dwelling Unit(ADU) is a really simple and old idea: having a second small dwelling right on the same grounds (or attached to) your regular single-family house. ADUs can be small interior apartments or separate backyard houses that share a parcel with a single-family residence.
There are three types of ADUs:
Internal ADU – created within an existing or new house. For example, a basement apartment.
Internal Addition ADU – added to the floor area of an existing house.
Detached ADU – a dwelling.
Examples include:
an apartment over the garage
a tiny house (on a foundation) in the backyard
a basement apartment
Regardless of its physical form (backyard cottage, basement apartment, etc.), legally an ADU is part of the same property as the main home. It cannot be bought or sold separately, as a condominium or a dwelling on wheels might be. The owner of the ADU is the owner of the main home.
Bozeman ADU Benefits
Bozeman Accessory Dwelling Units have several benefits:
Creates additional housing options for the city.
Creates a secondary rental income for property owners.
Increases the occupancy of a given plot of land.
Creates more communal living, while still providing autonomy and privacy for both homes.
People who may have once needed a large home–e.g. parents whose children have moved out–can move into the ADU and rent out the main home.
Bozeman Accessory Dwelling Unit Requirements
Either the principal dwelling unit or the accessory dwelling unit must be occupied by
an owner of the property or an immediate family member of the property owner.
Only one (1) ADU allowed per qualifying lot.
Maximum size: 800 square feet and one bedroom.
Parking: one paved off-street parking space required in addition to the parking required for principal residence.
Occupancy: may not exceed 2 persons.
May be located in a detached structure on a lot with alley access.
May be located above a detached garage or at ground level.
Garage conversions: Garages may only be converted to ADUs if all required parking is provided.
If an ADU is not allowed on the property because of lot size or width, another option could be a guest room/house which is an attached or detached accessory building used to house guests of the occupants of the principal building, and which is never rented or offered for rent. Any guest house providing cooking facilities (e.g., full-size dishwasher, more than a bar sink, or a stove) is considered a dwelling unit.
Bozeman ADU Zoning Restrictions
Bozeman zoning ordinance allows detached, internal, and internal addition ADUs in areas zoned R-2 through R-5.
R-S: Conditional
R-1: Conditional
R-2: Permitted
R-3: Permitted
R-4: Permitted
R-5: Permitted
R-0: Permitted
Accessory dwelling units in the R-S and R-1 districts shall be permitted to be placed above garages only in subdivisions receiving preliminary plat approval after January 1, 1997.
If you have any questions about Bozeman Accessory Dwelling Units, please contact us. We're available to assist you in any way that we can.