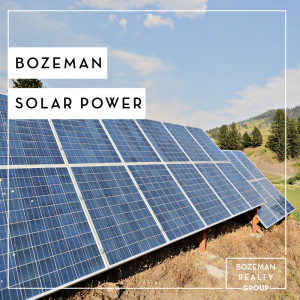 Question: Does solar power make sense in Bozeman with the effects of cold winter temperatures and heavy snow?
Answer: Yes! Solar panels extract energy from light, not heat. Bozeman is one of the sunniest cities in Montana, averaging over 300 sunny days per year. As long as the sun is shining on solar panels, they are generating energy. Cold weather has little to do with how well your solar panels perform. Actually, colder temperatures help solar panels perform better. As solar panels get very hot they actually begin to produce less power from the same amount of sunlight. To help mitigate this, good solar panel installations have some air gap behind them to facilitate cooling.
The amount of energy you extract from your solar installation in snowy areas is almost entirely based on the quality of your panels and how they're installed. The best panels are designed to handle extreme variations in temperature (also known as thermal cycling) in both hot and cold climates. And, when they're properly installed will melt snow faster than on a typical rooftop.
Electricity generated from Personal Solar Power Generating Systems can be "Grid Tied" into Northwestern Energy's electrical grid. Contact Northwestern Energy to obtain a "Net Meter Request Form" before performing any work to tie a personal system into their grid.
Homes that are grid-tied into Northwestern Energy's electrical grid also need to follow "INTERCONNECTION STANDARDS FOR CUSTOMER-OWNED, NET METERED, GRID-CONNECTED ELECTRIC GENERATING FACILITIES OF 50 KILOWATTS OR LESS PEAK GENERATING CAPACITY".
Northwestern Energy can provide a list of Interconnection Standards.
Please contact us if you have questions regarding using solar power for your home. We would be happy to put you in contact with several local companies that provide solar power solutions in the Bozeman Area.