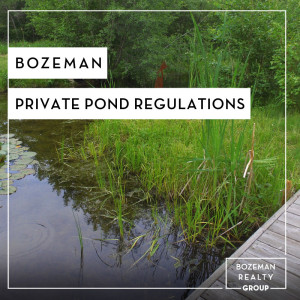 A frequent question we get is "Do you need a permit or license for a private pond in Bozeman?"
Depending on where you live, and the details of your pond, you may need to obtain a Water Right from The Montana Department of Natural Resources & Conservation. Water Rights are a complicated subject having to do with senior vs. junior water rights, etc. A water right allows you to legally use water in a prescribed manner, but not to own the water itself.
Even if you do have a Water Right for the pond on your property, the state of Montana may still require you to release the water stored in the pond if people having more senior water rights are in need of the water. This can happen during times of drought.
Not all ponds require a Montana Water Right. Ponds using less than 1/10th an acre foot of water, including water lost due to evaporation, are not required to have a water right in Gallatin County.
An acre foot of water is equal to 325,851 gallons, so 1/10th an acre foot equals 32,585 gallons.
That is roughly a 33 foot diameter pond with an average depth of 5 feet. However, this does not take into consideration evaporation of water in the pond. It is very difficult to accurately estimate evaporation of water from a pond. The surface area of the water, wind speed, water vapor pressure, and ambient air temperature all effect evaporation. A 32 foot diameter pond can lose over 5 gallons per hour to evaporation in the right conditions.
A permit is required from the Montana Fish, Wildlife, and Parks Commission to stock a pond with native fish. Only lawfully purchased fish may be planted, and those must be purchased from approved fish hatcheries (aka commercial fish ponds).
If you have questions regarding a private pond, please contact us.