Quaint, stylish and full of character are a few words to describe Bozeman's Historic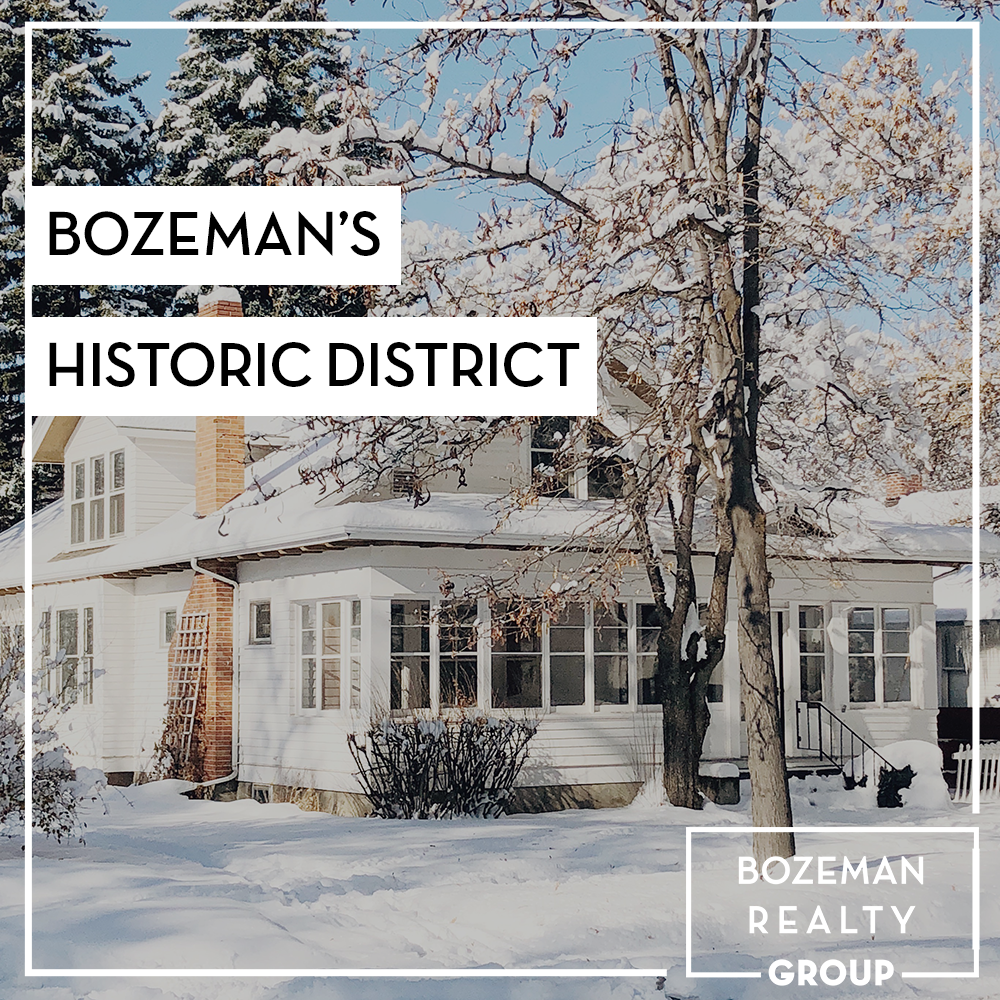 District. Bozeman has several different historic districts, each with it's own unique style.
Some of the most notable areas in Bozeman's historic district are noted below:
Bon Ton District
Cooper District
Lindley Place District
Story Mill District
Main Street District
South Tracy District
North Tracy District
South Tracy – South Black District
Bon Ton District
The Bon Ton District features a combination vernacular and high style residential architecture. Homes in this area were built between 1880 to 1937.
Cooper Park District
The Cooper Park District contains about 250 homes. The style is diverse with one to two story frame houses. The homes have even spacing and setbacks, along tree-lined streets. Many homes are built in a bungalow, Queen Anne or colonial revival style.

Lindley Place District
Densely packed and cohesive homes are predominant in Bozeman's Historic District Lindley Place area. Most of the homes were built in the late 19th and early 20th century. The homes here are located near the peaceful Bozeman Creek.
Story Mill District
The Story Mill District represents Bozeman's historic role as the transportation and economic hub of Southwestern Montana. Located here is the Story Mill, a large water-powered grain milling complex. The Northern-Pacific railroad also built a roundhouse, passenger station and freight depot in the area.
Main Street District
Bozeman's Main Street Historic District is positioned along Main Street, between Rouse Avenue and west of Willson Avenue. This has been the heart of commerce in Bozeman's historic district since it began to be developed around 1867.
South Tracy District
This small residential area features several Bungalow style homes. Many of these homes have undergone extensive renovations and modernizations, but their original charm remains.
North Tracy District
The North Tracy residential district  consists of 28 diverse, modest residences spanning two blocks, from Villard to Peach Streets.The houses vary in size, design, and integrity, but are regularly spaced along the street. Multiple home styles are featured in this area including Bungalows and more 19th century forms.
Bozeman's Historic Districts feature a wonderful mixture of commercial and residential building all with charming character and style that lend to the town's overall personality.