Bozeman is a wonderfully quaint small town with plenty of charm, but we're also seeing a great deal of growth. This growth is bringing many new businesses to town, adding more variety to the current selection of dining, retail here in Bozeman. Some of Bozeman's newest businesses are listed below. We highly recommend taking some time to visit these wonderful locally owned businesses!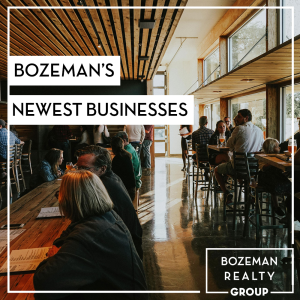 Located at 10 W. Main Street, the Rialto is a newly revitalized theatre, music venue and event space. At the heart of Downtown Bozeman, the Rialto was built in 1908 as a storefront and U.S. Post Office, and became the Rialto theater in 1924. The theater saw massing growth in the Roaring 20's, as the theater was renowned for silent film screenings, as its Art Deco marquee brought a bit "big city" style to Main Street. Eventually the Rialto began to show more Independent films. The Rialto closed its doors in 2005 and sat vacant and empty for over 10 years. Now re-opened and completely restored, the Rialto has been beautifully restored to is previous grandeur, maintaining it's historic look with modern new features. We love the amazing new event space on Main St, it's not to be missed!
This fun and playful new business is the best new place in Bozeman to go for a sweet treat! Located near the corner of 19th Ave. and Oak St., it's perfectly situated in the middle of town for a quick stop in for something sweet. The Candy Jar is Bozeman's most indulgent candy shop, offering unique candies and exquisite chocolates. Satisfy your sweet tooth with with 1000's of types of candy and chocolates. They even offer a "build your own candy bar" station, allowing you to pick the exact right mix of sweets on your custom creation. This is also a wonderful place to host a little one's birthday party!
Little Star Diner is open daily from 8am – 2pm and is located in Downtown Bozeman. We think this is one of Bozeman's newest businesses you won't want to miss because it is a modern diner featuring ingredients from local farms and a constantly updated menu. They also serve food and drinks on their rooftop patio, perfect for enjoying those beautiful summer days in Bozeman.
This new brewery and eatery is located in Bozeman's quirky and flourishing Northside district. Serving up tasty beers brewed in-house as well as a delicious and healthy menu (don't miss out on the Brussel sprouts!) this is the perfect place to go for a drink and a bite after hitting the slopes at Bridger Bowl. This is a great selection for one of Bozeman's Newest Businesses to visit.