Big Sky is growing and changing in many big ways! New development in Town Center, an increased number of flights to the area, and now a major announcement on future plans at Big Sky Resort are all contributing to the buzz around the area. The 2017/18 ski season will see 500,00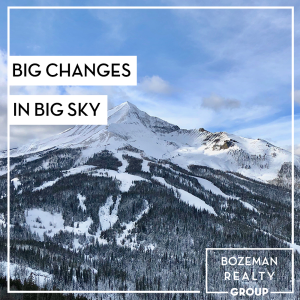 skiers, the most in the Resort's history. We've outlined below some of the newly discussed plans for development at Big Sky Resort under the "Big Sky 2025" vision. Get ready, because some exciting big changes in Big Sky are underway!
New Ramcharger eight-seat, high-speed chairlift
One of the most exciting new announcements as part of the Big Sky 2025 plan is a new eight-seat, high-speed chairlift that will replace the current Ramcharger lift in December of 2018. Called the "Ramcharger 8", this will be the first eight-seat chairlift installed in North America. It will have heated seats, blue wind bubbles, and seats 2-inches wider than the six-seat Powder Seeker chairlift. The current Ramcharger lift will be moved to the south side of the mountain this summer, replacing the existing Shedhorn double.
"Not only is it the most superior lift built in North America, but it's going to move a lot of people," said Big Sky Resort General Manager Taylor Middleton.

Mountain Mall Renovation
A new renovation to the third floor of the Mountain Mall building will add an additional 350 seats. This will allow for more dining space for skiers as well as options for coffee, wine and beer, indoor fireplaces and bright new windows with views of Lone Peak. A wider variety of food options including sushi, pizza, ramen and a crepe station will also be included in the renovation. Expanded outdoor space is also part of the planned improvements for the Mountain Mall.
These big changes in Big Sky are the part of the second phase of "Big Sky 2025," a 10-year plan announced in 2016 to mold Big Sky into what is being considered the "American Alp."
The first phase included the installation of the Powder Seeker lift and Challenger triple, additional housing for 450 employees, Everetts's 8800 restaurant and the North Face, Burton & Board Room shops. Future planned projects include night skiing on Andesite, more snowmaking operations, and a gondola to replace the existing Explorer chairlift.
These big changes in Big Sky are improving the already stellar accommodations and activities available at this world-class resort we're lucky enough to have right here in Montana.