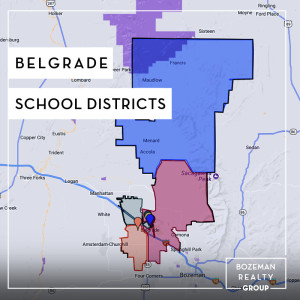 Belgrade Public Schools belong to Belgrade school districts, which are governed by school boards. Each Bozeman School District is an independent special-purpose government, or dependent school systems, under the guidelines of Montana state government and local school boards.
Which school district a home is located in is a consideration for many Belgrade home buyers.
Belgrade School District zones are subject to change. Please contact our Bozeman Real Estate Agents to learn more about each school district, Belgrade Schools, and options for homes in various Belgrade Neighborhoods.
Belgrade School District Map
Additional Resources