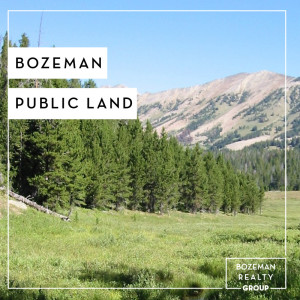 One of the many benefits of living in Bozeman, Montana is access to a large amount of public land including numerous iconic Bozeman mountain ranges and Bozeman rivers.
There are approximately 1,682,048 acres in Gallatin County including over 16,500 acres in surface water.
Approximately 800,000 acres in Gallatin County are owned by the public and managed by several local and national agencies including the Bureau of Land Management, U.S. Forest Service, National Park Service, Montana Fish Wildlife & Parks, Montana Department of Transportation, Department of Natural Resources & Conservation and various local governments.
Organizations such as the Montana Land Reliance, Gallatin Valley Land Trust, Nature Conservancy and Montana Fish, Wildlife and Parks hold conservation easements on approximately 67,000 acres of private land (about half of which is located on the Flying D
Ranch).
The U.S. Forest Service is the largest land holder in Gallatin County, currently managing over 665,000 acres.
In addition to the Forest Service, various state departments manage approximately 61,000 acres. The Bureau of Land Management holds just over 9,000 acres and an additional 1,600 acres belongs to local governments.
On the southern edge of Gallatin County is Yellowstone National Park. Yellowstone National Park is one of the world's primary wildlife preserves and has the greatest concentration of geysers and hot springs in America. Yellowstone National Park is 2,219,789 acres in size(Larger than Rhode Island and Delaware combined). Over 97,600 acres of Yellowstone National Park is located within the county.
Bozeman Public Land Map