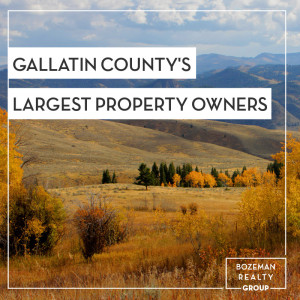 Gallatin County has 1.7 million acres and 46,000 distinct taxable properties.
The county's parcels are held by about 30,000 distinct owners, ranging from individuals to local businesses to national and international corporations.
Gallatin Country is dominated by public lands including 63,000 state-owned acres and 724,000 acres of federal land(primarily U.S. Forest Service).
A few familiar names make a list of the county's top 20 property owners by value, among them Bozeman Health Deaconess Hospital, First Security Bank and Four Corners-based tech firm Zoot. Most others appear to be corporate entities that own high-value properties like retirement homes or Bozeman-area retail centers.
The City of Bozeman owns a total of 3,879 acres across 130 parcels. Assessed value $56.2 Million in 2015. *all assessed values are from 2015 tax records.
The Bozeman School District owns 272 acres with an assessed value of over $46 Million.
Montana State University has 2,255 acres with an assessed value of over $39 Million.
The Federal government owns 723,893 acres in Gallatin County with an assessed value of over $133 Million.
The State Of Montana owns 62,899 acres in Gallatin County with an assessed value of over $36 Million.
The county itself owns 1,273 acres with an assessed value of over $30 Million.
Bozeman Health Deaconess Hospital owns over 60 acres in the Bozeman area. Assessed value of this property is over $110 Million. Among Bozeman Health Deaconess Hospital are the hospital's Highland Boulevard campus, the Aspen Pointe retirement home and unsold portions of the new Knolls at Hillcrest subdivision atop Peets Hill.
Black Bull Owners LLC owns 351 acres with an assessed value of over $36 Million.
WorldMark The Club owns 8 acres in West Yellowstone with an assessed value of over $28 Million.
First Security Bank owns 17 acres in the Bozeman area with an assessed value of over $27 Million.
Zoot Properties owns 32 acres near Four Corners. Assessed value is over $25 Million.
Stone Ridge Partners LLC owns the retail complex that includes REI, the Olive Garden and Buffalo Wild Wings off North 19th Avenue. It is assessed by the state at more than $22 million.
A Massachusets-based trust owns the Bozeman Lodge retirement complex off Oak Street. Its assessed value is more than $21 million.
The Largest property owners by size(acres) are:
Climbing Arrow Ranch Inc., holds 53,800 acres in north Gallatin County and south of Three Forks. Assessed value is $5.3 Million.
Ted Turner owns 52,234 acres in Gallatin County. Assessed value is $12.4 Million.
Elk Ridge Limited Partnership owns 18,657 acres in northeast Gallatin county Assessed to be worth over $1.8 Million.
Morgan Land Co. owns 18,239 acres worth an Assessed value of over $1,9 Million.
Horseshoe Hills LLC own 16,160 acres worth over $1.4 Million.
RY Timber company owns 9,126 acres in the Bangtail Mountain area of Bridger Canyon with an assessed value over $2.2 Million.