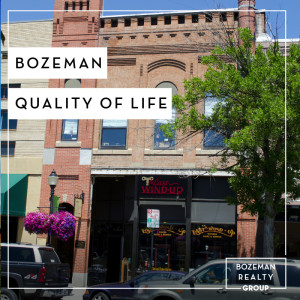 The Bozeman Quality Of Life index rates very well due to access to Outdoor Recreation, Amusement, Culture, Education, Medical, Religion, Restaurants and Weather. Bozeman ranks as one of the best places to live, best places to retire, best place to raise a kid, best place to visit, best ski town, and best college town. Big Sky Resort is also frequently recognized as one of the world's best ski resorts, most affordable ski resort, and best ski resort for families.
Bozeman is known for its friendly people, sense of community, excellent schools and quality of life. The town has a western charm and a relaxed attitude.
Bozeman's economy is the best in the state of Montana. Drawn by the Bozeman quality of life and access to the great outdoors, a new generation of tech entrepreneurs is moving to the area. Their arrival is generating job growth in local economies traditionally based on natural resources. Oracle bought out RightNow Technologies, a Bozeman-based high-tech firm, in 2011 and maintains a substantial operation in Bozeman. Many high-tech firms are clustered in a technology park near the intersection of Research Drive and Technology Boulevard.
Bozeman has the cultural amenities of a local symphony and ballet, an energetic downtown restaurant and art scene, and the vibrancy of a college community.
Montana State University(MSU) was established in 1893 and is the largest in the state with almost 16,000 students, and offers more than 225 academic options. MSU is recognized nationally for its prominence in research, and is the largest research entity in Montana with annual research expenditures exceeding $100 million. MSU is among the top 3 percent of colleges and universities in the nation for research expenditures and is also classified by the Carnegie Foundation as an institution with a high undergraduate profile.
Despite being such a desirable place to live, the Bozeman Cost Of Living Index is just 2.7% above the national average. Bozeman is a relatively affordable place to live for professional and managerial households when compared to other urban areas in the U.S.
When it comes to outdoor recreation Bozeman is surrounded by 6 different mountain ranges, which offer vast winter and summer recreational opportunities.
A world class destination for fly fishing, Bozeman is home to the word's most famous Blue Ribbon fly fishing rivers, spring creeks and lakes on Earth. The Yellowstone, Madison, Gallatin, Jefferson, Beaverhead, and Missouri rivers are all nearby.
Bozeman has 60 miles of "Main Street To Mountains" trail system in town, surrounded by 6.9 million acres of public land.
In winter Bozeman's Bridger Bowl ski area, and the resort town of Big Sky offer the Biggest Skiing In America.
Bozeman is the sunniest city in Montana, averaging over 300 sunny days per year. Bozeman's average annual precipitation is 16.23 inches. Humidity is low in both summer and winter. Due to the dry climate, summers are pleasant with warm days and cool nights. Mild winter weather in Gallatin Valley is not unusual, and more than a week of consistently frigid weather is increasingly infrequent.
Primary healthcare is provided by Bozeman Deaconess Hospital. The hospital has received several excellence awards and five-star ratings over the years. Because Bozeman is such a desirable place to live, many top rated Doctors have elected to move to Bozeman to continue their practice.
It's no secret that Bozeman Quality Of Life is close to idyllic.