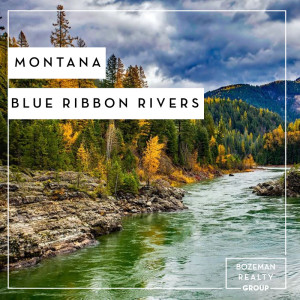 Several rivers in Montana have the distinction of being considered the best of the best; designated "blue ribbon" status. A Blue Ribbon fishery is a designation made in the United States to identify recreational fisheries of extremely high quality. Official Blue Ribbon status is generally based on criteria which address water quality and quantity, water accessibility, natural reproduction capacity, and angling pressure. The large amount of Blue Ribbon Trout Water makes Montana Fly Fishing Property For Sale in high demand and are important to Bozeman's Quality of Life.
The following Montana rivers have been designated "Blue Ribbon" trout rivers.
Yellowstone River – The Yellowstone is a blue ribbon river and is the longest free flowing river in the lower 48 and one of North America's most productive wild trout fisheries. The river drains much of Yellowstone National Park and it's surrounding wilderness areas. The Yellowstone River offers more than 200 miles of high quality trout waters that include a variety of fish species and water characteristics. Popular Livingston Fly Fishing Property For Sale is located in Paradise Valley.
Missouri River – The Missouri is a blue ribbon river that is one of the best Montana fly fishing rivers. It begins at Three Forks, about 30 minutes west from Bozeman where the Gallatin, Madison, and Jefferson meet. The Missouri river is known for great hatches, premier dry fly fishing, large trout and carp fishing.
Madison River – The Madison is a blue ribbon river that offers an amazing diversity of water and varies significantly from its source in Yellowstone National Park to its confluence with the Missouri River. Different sections of the river offer different habitat, scenery, hatches and fishing techniques. Madison River Fly Fishing Property For Sale is very popular.
Gallatin River – The Gallatin is a blue ribbon river that originates in Yellowstone National Park. In its upper reaches, it flows through a spectacular alpine environment within the Gallatin Canyon where the fishing scenes from the movie A River Runs Through It were filmed. The Gallatin is a very picturesque river with crystal clear water and lots of trout. The river is not known for trophy trout but often produces fast action and high catch rates. The Gallatin River is popular location for Bozeman Fly Fishing Property For Sale.
Boulder River – The Boulder is a blue ribbon river, and is one of the most beautiful fly fishing rivers in Montana. Its headwaters are in the Absorka Beartooth Wilderness just north of Yellowstone Park. The Boulder River has a large number of rainbows and browns. The lower portion of the Boulder River flows through almost 100% private land making access very difficult.
Blackfoot River – The Blackfoot is a blue ribbon river, and is one of Montana's popular rivers for recreation. The river's outstanding natural resources and diversity of recreational opportunities, combined with its proximity to Missoula, contribute to its
popularity. Dry fly hatches are prolific and fishing is good from spring well into October. The Blackfoot River has native Westslope Cutthroat and Bull Trout as well as wild Rainbow, Brown and Brook Trout.
Big Hole River – The Big Hole is a blue ribbon river that begins at Skinner Lake, high in the Beaverhead Mountains of Southwest Montana and flows for 155 miles in Montana before emptying into the Jefferson River at Twin Bridges. The Big Hole River is home to fluvial Arctic Grayling, Cutthroats, Brook Trout, Mountain Whitefish, Brown Trout and Rainbow Trout.
The Montana Stream Access Law says that anglers, floaters and other recreationists in Montana have full use of most natural waterways between the high-water marks for fishing and floating, along with swimming and other river or stream-related activities.