Bozeman is quickly gaining traction as a top culinary destination. With a variety to cuisines, price points and styles, the restaurant scene is Bozeman is on fire. New eateries are popping up all across town, many featuring locally sourced meat and produce with inventive menus. Below we've listed just a few of our absolute favorite Bozeman restaurants.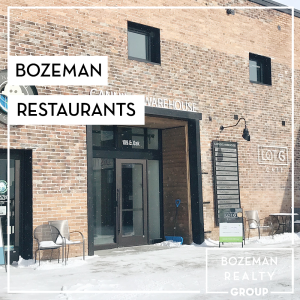 A delicious spot for breakfast and lunch, Salted Caramel Cafe is a made from scratch neighborhood restaurant featuring savory and sweet treats. With a daily rotating menu and a selection of coffee drinks and pastries, this is the perfect spot to enjoy an afternoon on the porch soaking in the downtown Bozeman culture.
Urban Kitchen is a neighborhood restaurant featuring local and seasonal Inspired American Cuisine, in a friendly and warm atmosphere. Their menu includes choice cuts of steak, pastas and seasonal sides dishes. Favorites include bakes meat balls with Nana's tomato sauce and the charcoal grilled filet mignon.
This family-owned modern diner combines a love of farming and cooking. The chef creates an always rotating menu based on the season and availability of fresh ingredients. Besides supplying food from their own farm, the owners source their meats from small family ranches in Gallatin Valley. Their delicious bread and other baked goods are baked in house daily using organic flour and grains from Montana.
Located Downtown on the corner of Grand and Olive in the historic Emerson Center for the Arts & Culture, the Emerson Grill offers critically acclaimed local & organic home-style Northern Italian cuisine. The owner's vision for the restaurant is for it to be Bozeman's "neighborhood restaurant"
One of Bozeman's best downtown restaurants for a laid-back but always delicious meal. Serving up artfully-crafted upscale comfort food you can always rely on "Ale Works" for a great burger and their bison meatloaf is unique and tasty.
Offering an array of Thai, Chinese and Japanese selections with a focus on fresh and authentic ingredients, this tasty downtown restaurant serves up great lunch and dinner selections. A few favorite dished include fresh (never fried) summer rolls, the papaya salad with fresh Hawaiian papayas, and an array of authentic Thai items like curries and noodles.
Jam on Main is a newer restaurant located in the heart of Downtown Bozeman that is quickly becoming a local favorite for brunch. Serving breakfast all day every day and lunch Monday through Friday, Jam features dishes that have a unique twist on your favorite traditional breakfast items.
There is a wide array of Bozeman restaurants offing a delicious selection of cuisines all across town, we're sure you'll find something you love!