Sometimes it's the simplest things that can make a big impact on the final sale price of a home. Staging done well is one of those things! This is a step we highly recommend you don't skip as you prepare to sell your home. Selling your home in Bozeman can be a much faster process if you've taking the time to ensure your property is presented in the most appealing way. That why we've share below three reasons why home staging matters.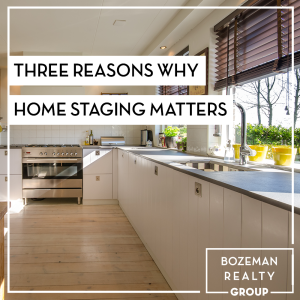 1. 
Cleaning
It is vital to do a thorough, deep cleaning of your home. It works for people selling a car (they get more money) and it will work for you on a bigger scale when selling your home. This is one of the easiest things you can do which is why we've listed it as the first of our three reasons why home staging matters. 
For a good deep cleaning, you should do the following:
De-clutter: Begin with de-cluttering. Here is the standard rule of thumb: go through your home and get rid of 50% of your belongings. That may seem like a lot, and it is! You need to "de-personalize" your home so others can envision themselves living there. 
Items like photographs, highly personalized items, out-of-season clothes, random junk and excessive furniture. These all need to go.
Hardcore Cleaning: Now that the clutter is gone, move on to hardcore cleaning. Be meticulous. Tidy each room from top to bottom. Investing in a professional to come in and detail clean your home is a worth investment. As is paying a professional carpet cleaner and even a professional window cleaner. 
When cleaning, don't forget to:
Get rid of the cobwebs first. This keeps you from getting dust bunnies all over freshly cleaned floors and furniture.

Dust ceiling fans and lighting fixtures while you clean out the cobwebs.

Dust your blinds.

Wash walls, unless you plan on painting.

Clean all glass surfaces: mirrors, television screens, patio doors, and windows.

Polish all wooden surfaces.

Wipe down any leather furniture.

Clean out and reorganize the closets and cabinets.

Attack all appliances with cleaning fervor. Make them shine!

Sinks, toilets, tubs, showers, faucets, and countertops need to be impeccable. Every room is important, but the kitchen and bathrooms will take you over the top. They need to be eat-off-of-the-floor clean.

Vacuum rugs, shampoo carpets, and mop as if your life depends on it.

Side note: Attack these tasks last or you will inevitably have to do them twice.
Taking the time to deep clean your home is one of the three reasons why home staging matters.
2. Painting 
If you have not painted your house in the last year, consider doing the entire inside of the home right now. This is one of the most important of our three reasons why home staging matters. 
When planning to repaint, include everything. Paint the ceilings. Paint the trim and window casings. Paint the doors. Do not forget to paint inside the closets. And of course, paint the walls.
Through your efforts with painting, you are hand delivering your potential buyers, a clean, primed canvas where they can imagine their family in your home. Radical paint colors and chips and holes in the walls can really turn potential buyers off. 
Keeping all of this in mind, proceed with your home's canvas using neutral colors. That does not mean everything must be lifeless or stark white. Rather, you want your colors to be unobtrusive. Stick with gray, beige, off white and white colors. 
3. Kitchen and Bath
Focus on these high impact areas.
Buyers are most turned off by dirty, grungy bathrooms and kitchens. Even if the fix is easy – as deep clean – the smell and visual effect of these dirty spaces can have buyers turning and running in the opposite direction. 
Keep this in mind: potential buyers might forgive a less than stellar child's room, but a questionable bathroom or kitchen could cost you a possible sale.
Should I Buy New Appliances? 
The National Association of Realtors did a survey of buyers in the market over the past several years and found:
Buyers were somewhat or very interested in buying a home that featured new appliances.

Roughly 17% of the respondents preferred stainless steel.

The most important factor: appliances were available.

Most buyers who were unable to get their sought after appliances said they would have been willing to pay, on average, nearly $2,000 more for them.
Potential buyers want appliances included and will pay more for them, especially if they are new, or at least in excellent condition.
If you can afford it, new appliances might be the very act that sets your house apart from the home for sale across the street. If new appliances are a bit out of your reach, offer them your immaculately clean, and fully functioning existing ones.
Updating Hardware. Stop and take a nice, long look at your bathroom and kitchen hardware. You will likely notice they look well used. The truth is they are.
That does not mean you should run out to buy all new fixtures.Unless your knobs, pulls, handles, and hinges are broken, there is no real reason to replace them. Get that new look simply by thoroughly washing and repainting them. It can be that simple. There is spray paint made specifically for this reason. The project is incredibly cheap.
The goal is to patch your home up nicely with as little cash as possible. This is a great way to do it. If you end up replacing your knobs you get matching exposed hinges for cabinet doors etc. Consistency is a good thing when selling a home.
Other Excellent and Cheap Update Ideas for the Bath and Kitchen:
Buy a new toilet seat.

Refurbish worn out looking cabinets with a faux paint project.

Replace an old, ugly bathroom sink with a pedestal variety.

Repair grout in tile backsplashes, floors, and tub surrounds

.
These three reasons why home staging matters will help ensure you attract the right buyer who is will to pay top dollar for your home.