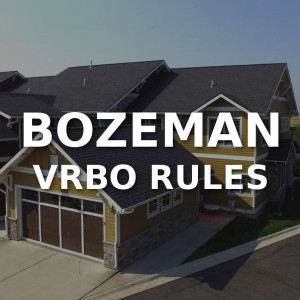 The City Commission adopted Bozeman VRBO Rules that are effective as of December 1, 2017. City Of Bozeman Ordinance 1974 states that all new Bozeman VRBO Rentals must comply with the new regulations.
View our article on Bozeman Short Term Rental Rules for details.
VRBO Rentals that are owner occupied, whether the owner is there during the time of the rental or not, are allowed in most types of residential zoning districts.
The City of Bozeman rules do not address every issue which may be applicable to operation of a VRBO, including but not limited to taxes, insurance, health code, and other legal issues outside of the City's regulations. Persons interested in having a VRBO rental should also check mortgage or lease/rental terms, home owner covenants, and insurance policies as standard homeowner's insurance may not cover short-term rental use.
If you have tax, insurance, health code, or legal questions on the ownership and operation of a Bozeman VRBO please consult an appropriate professional. The City of Bozeman does not advise on issues related to VRBO's other than its own regulations.