Bozeman is a wonderful town for kids of all ages. Offering a wide variety of activities in all seasons, there's so much to to do keep kids entertained – both indoors and outside. Below we've listed some of our personal favorite kid friendly activities in Bozeman
Museum of the Rockies is a Smithsonian Affiliate museum located near the Montana State University Campus and Downtown Bozeman. It features an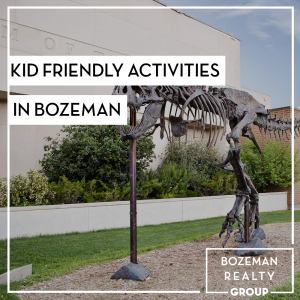 impressive collection of permanent exhibits including dinosaur fossils as well as intriguing rotating exhibits. Museum of the Rockies also has a Children's Discovery Center with hands-on exhibits perfect for kids of all ages. The exhibits are based on the science and geology present in Yellowstone National Park, and is a great way to introduce little ones to the wonders of Yellowstone. Kids are allowed to get hands-on, engaging in activities such as fishing from the fishing bridge to setting up a campsite and cooking a meal. Visiting the Museum of the Rockies is a perfect activity for kids on a rainy or cold day.
The Bozeman Children's Museum and STEAM Lab is conveniently located in Downtown Bozeman. The entire museum is gear towards children of all ages with any hands-on activities. Learning about bugs and insects, how to plant and grow a garden as well as many other exciting and engaging activities make this museum home to many kid friends activities in Bozeman. The museum also offers fun family science days.
Hyalite Canyon Recreation Area is the most heavily visited recreation area in Montana. It features three campgrounds and two day use areas that allow easy access to the water. The reservoir's "no-wake" rule make it perfect for canoeing, paddle boarding and fishing. This area features several enjoyable hikes that are short and easy for kids. Including History Rock and Grotto Falls. Hyalite is one of the most popular kid friendly activities in Bozeman.