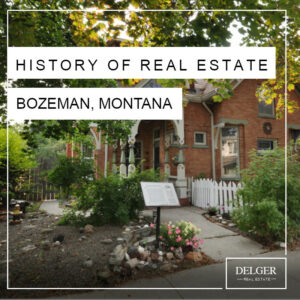 Bozeman was founded in the late 1800s as a railroad town, and it was named after John M. Bozeman, who helped establish the town as a center for trade and transportation. In the early years of its existence, Bozeman was a hub for agriculture, and it was home to several large farms and ranches.
As the city grew, so did its real estate market. In the early 1900s, Bozeman saw a boom in residential construction, with a mix of single-family homes and multi-family dwellings being built to accommodate the growing population. Many of these early homes were built in the Victorian style, and they are still found throughout the city today.
In the following decades, the city continued to grow and develop, with new neighborhoods, schools, and commercial centers being built. As Bozeman's economy diversified, the local real estate market began to expand as well. In the 1960s and 1970s, the city saw a surge in the construction of new homes and apartments, as well as the development of shopping centers and other commercial properties.
Bozeman's historic downtown is a vibrant and lively area located in the heart of the city. It is home to a mix of restaurants, shops, and other businesses, as well as a number of historic buildings and landmarks.
One of the most notable features of Bozeman's downtown is its Main Street, which runs through the center of the Bozeman's Historic district. Main Street is lined with a variety of locally owned businesses, including restaurants, boutiques, and other specialty stores. Many of these businesses are housed in historic buildings, and the street is known for its charming architecture and small-town feel.
In recent years, Bozeman has become a popular destination for people looking to relocate, and its real estate market has experienced significant growth. The city has a strong economy, with a mix of industries including tourism, healthcare, education, and technology. It is also home to Montana State University, which has contributed to the growth of the local real estate market.
Today, Bozeman is a vibrant and growing community with a wide range of real estate options, including single-family homes, apartments, condominiums, and commercial properties. The local market is strong and diverse, reflecting the city's rich history and its bright future.