Two new development projects have been announced this week in Bozeman. One is for six-story multi-use building in Downtown Bozeman, the other for a new concert venue in the Mid-Town area on North Seventh Avenue.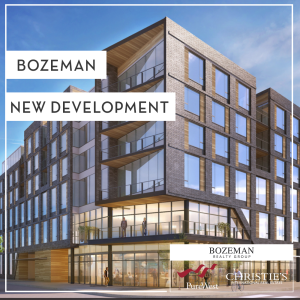 The proposed multi-use development will be a six-story building on Mendenhall. The project has been presented by Andy Holloran and HomeBase Montana. It is planned to be situated between the Element Hotel and 5 West, two other recently completed projects by HomeBase. The building will include retail and 29 parking spaces on the ground level, office spaces on the second and third floors, and condominiums on the top floors.
The condos will be a mix of studio, one- and two-bedrooms units that will range between 790 and 1,500 square feet. Building amenities include "landscaped outdoor terraces," a spa, lounge and dining areas.
"We continue to believe in our downtown core and that we're going to continue to grow and so need to preserve our open land and agricultural space and develop in our urban core," Holloran said. "Based on our experience with Block M and 5 West, clearly there's a huge demand for people to live and work in downtown and there's not a lot of options."
The 5 East plan is set for review by the city planning department and, pending approval, construction could begin as early as the beginning of 2019.
Also announced are plans for a new concert venue on North Seventh Avenue. The entertainment promotion and production company behind Missoula's Top Hat and Wilma theaters, as well as the new KettleHouse Amphitheater, plans to build the new music venue which will have a capacity of 1,500. It is proposed to go in on the corner of Seventh and Short Street, just south of the under-construction RSVP Motel.
"Bozeman is a great market and is hungry for shows and music at that size venue," Checota said. "It's going to bring a lot of good music to the area."
The music venue will add to several new construction projects in Bozeman's "Mid-Town" area on Seventh Avenue. According to the proposed design, the first floor will have a sloping pit area similar to the Wilma. The second floor will have a large outdoor terrace and a wraparound indoor balcony. The building, featuring several large glass windows and wood paneling, will be set back from the road to allow for long lines and crowds.