Bozeman's neighborhoods are varied and diverse, each with their own unique set of characteristics. If you're looking for a good place to start your Bozeman area home search, familiarizing yourself with Bozeman's neighborhoods is a great first step. You'll find that some areas off a mix of single family homes and condo or townhouses on smaller lots, while others feature more private homes on larger pieces of land. Some neighborhoods also have public open spaces with parks and walking trails.
The city of Bozeman is divided into zones, or districts. View our articles on Bozeman Zoning, Bozeman Urban Renewal Districts and Bozeman Neighborhood Conservation Overlay District.
The Bozeman public school system is divided into individual School Districts. For additional information and maps of the school boundaries view our article on Bozeman School Districts, or view our article on Bozeman Schools for a list of all schools in Bozeman, Montana.
Below you will find we've broken down all of Bozeman's neighborhoods into their different sections so you can easily click through to lean more about what each unique area has to offer. To learn more about the characteristics of the area, you may also be interested in our article on Bozeman Parks, and Bozeman Walking Trails.
Familiarizing yourself with Belgrade's neighborhoods is a great for buyers looking for options beyond Bozeman's neighborhoods.
If you have any questions about Bozeman's neighborhoods, please contact us. We're available to assist you in any way that we can.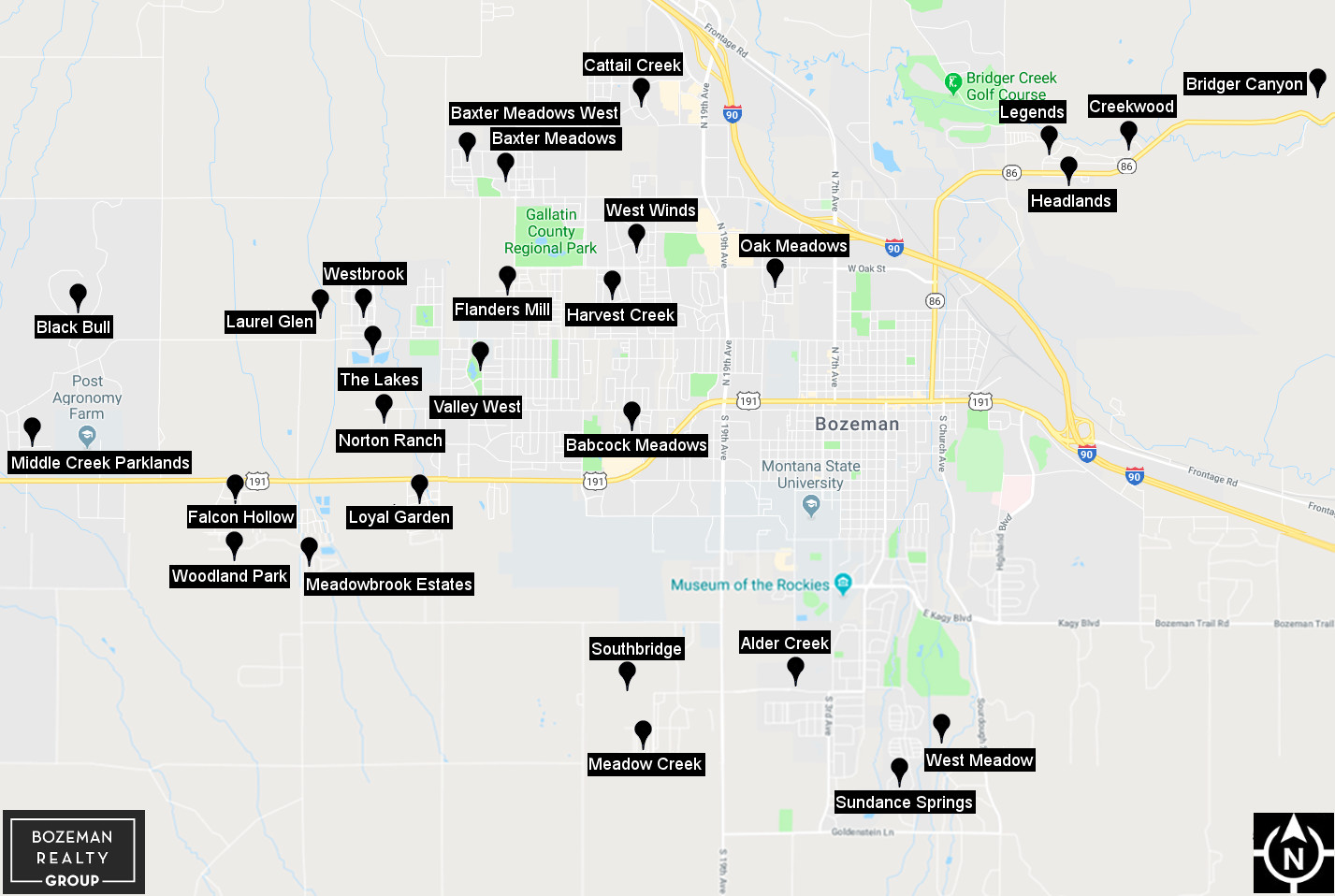 Powered by data, technology, and local expertise, our real estate agents help you find the perfect home at the right price.
Black & Olive
Hawthorne Place Condominiums
Northside Lofts
Sobo Loft Condos
BOZEMAN PASS
FOUR CORNERS
GALLATIN GATEWAY
TRAIL CREEK